Spinal Intervention Efficacy on Correcting Cervical Vertebral Axes of Rotation and the Resulting Improvements in Pain, Disability and Psychsocial Measures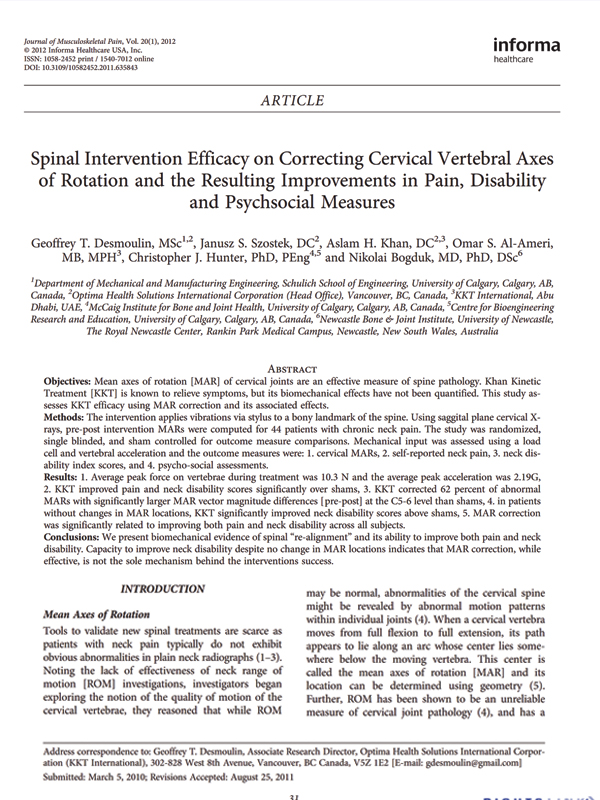 Category: Publication
Author: Desmoulin G. T., Szostek J. S., Khan A. H., Al-Ameri O. S., Hunter C. J., Bogduk N.
Publication: Journal of Musculoskeletal Pain, 2012, 20(1): 31-40.
Mean axes of rotation [MAR] of cervical joints are an effective measure of spine pathology. Khan Kinetic Treatment [KKT] is known to relieve symptoms, but its biomechanical effects have not been quantified. This study assesses KKT efficacy using MAR correction and its associated effects.
https://gtdscientific.com/wp-content/uploads/2012/03/spinal-intervention.jpg
800
600
Geoff Desmoulin
https://gtdscientific.com/wp-content/uploads/2018/04/GTD_Logotype_Primary_Black_Logo.svg
Geoff Desmoulin
2012-03-22 13:43:32
2021-04-20 15:43:27
Spinal Intervention Efficacy on Correcting Cervical Vertebral Axes of Rotation and the Resulting Improvements in Pain, Disability and Psychsocial Measures